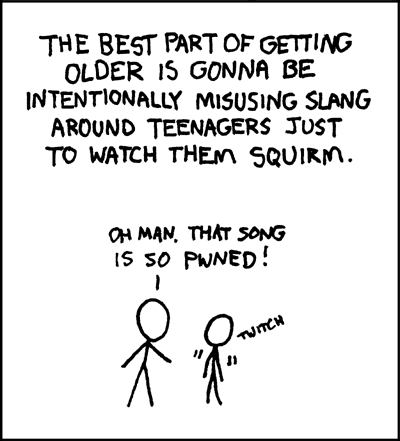 (image found at:
http://imgs.xkcd.com/comics/misusing_slang.png
)
When do we really grow up?
Is there a moment in time when all of a sudden something shifts and we move from adolescence to adulthood in an instant, whether we like it or not?
Does it happen so gradually that we don't even notice it's happening until it smacks us in the face?
…and what the heck is a grown up, anyway?
Is it when we discover that vegetables aren't just gross–they're actually fabulous?
…or when our siblings become our friends and parents are suddenly wiser than we ever realized?
Is it when we truly feel independent for the first time?
…or when we are officially old enough impact the political outcomes in our countries (voting)?
Is it when we purchase our first vehicle?
…or the first time we move out on our own?
Is it when you complete your education?
…or when you receive your first real promotion in your chosen career?
Is it when you realize that you have fears, and that the bravery of your youth has vanished?
…or the moment you let your fears go?
Is it when people younger than you have no idea who JTT was? (this actually happened… our poor, poor youth…)
…or when you really fall in love for the first time?
Is it when you realize that puppy love is not enough to make a relationship survive?
…or when you finally drop the word "like" from your vocabulary? (it took me, like, a long time. Like, seriously.)
It is when you are faced with your first major decision that impacts someone more than yourself?
…or the first time you lay awake all night due to stress of some sort?
Is it when you trade in your beloved homemade MC Hammer pants (my mom loves me and made me some) for work clothes?
…or when you learn to put the people you love before yourself?
Is it the first time you experience the death of someone close to you?
…or witnessing the birth of a child?
Is it forced upon us?
…or something we accept without a fight?
I simply don't know.
The Hubster believes it's when someone can be self-reliant and survive in the world on their own. I don't know what I think–there are too many questions. There are some days where I feel as though my days of being Twenty-teen are so far behind me I can hardly remember them, and others where I swear yesterday was my 17th birthday. I know I've been married for four years, but when I say it out loud I think that it can't possibly have been that long.
I guess I'm just feeling some growing pains these days.
Are you a "grown-up"?