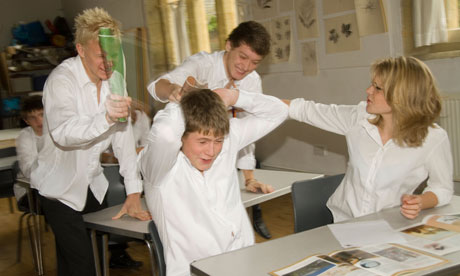 Today I decided that I will never, ever be an intermediate teacher.
(Probably.)
I spent several weeks in a grade 7 classroom during my long-term placement in teacher's college, and after I spent most of those several weeks winning them over, it wasn't so bad. I even thought for a minute that maybe I could teach grade 7 or 8 in a good school.
…then I went back to high school.
I am a high school teacher, through and through. I have nothing against 12 and 13 years olds–I know several very awesome kids at that age.
I just don't like 29 of them at one time. In one room.
(It makes my head want to explode just thinking about it.)
Today was a really rough teaching day for me. I had a morning assignment was one of the rougher schools in Pretty City, but I'm there often enough and the kids know me. I've never really had an issue there.
My first period class went well. Dreamy, even. I taught Grade 11 Introduction to Accounting and the kids were faboosh. They spent the whole period working on an assignment, and not a single student even asked to leave the class to use the bathroom, go for a walk, etc. *swoon*
My second period class was a little different. I taught Grade 12 Law, and 90% of the class had decided that since they were going away next year they already knew everything and were completely done with school. I got them through the overhead they needed to copy down, but there were not having the assignment their teacher left for them. I felt so bad for the small minority of the class that was actually trying to do their work, as I spent nearly 40 minutes on crowd control. They weren't bad, just really, really apathetic, and they were just… done. And that hurts my heart.
I was late leaving, but I was relieved to know that I had the afternoon off as I had a million things I needed to get done today. As soon as I turned on my car, my cell rang.
It was work. They needed me to take an afternoon assignment… in an elementary school.
I tried a couple of excuses to try and get out of it, but the dispatch lady wasn't having any of it. I knew that I would barely make it on time if I even got there before the bell, but she didn't care.
She told me to go late. *sigh*
So, still on edge from my rowdy class, I flew through the Arby's Drive Thru and swallowed a sandwich whole as I drove to my next school. I got in just in time to face 29 Grade 8 students.
I wasn't even there five minutes before I had to start yelling. I hate yelling. I rarely every do it. I find patience and humor much more effective, but I knew right away that that strategy would not work with this class. So, I dug deep and pulled out my angry voice.
I yelled.
…and it worked for about 5 minutes.
They were loud. Disrespectful. Off task.
As I was diffusing one blow up in one corner, another was happening elsewhere in the room. It took me nearly a half hour to get them on task and working on their projects. Then it was some kind of a book circle time, and even more students came into my room. I didn't even have enough chairs for all the kids I had.
And did I mention that I was the only staff member in the room?
By afternoon recess my nerves and patience were shot and I kicked all of them out. I closed the door, looked at the chaos in the room–papers and pencils strewn everywhere, chairs all over the place, desks out of rows–and it was seriously all I could do to not cry.
I sat at the desk, put my head down and thought happy thoughts for the brief 10 minute respite from the madness.
I taught grade 7 instrumental music for the last two periods, and while they were better, I still completely lost my voice trying to either, a) Quiet them; or b) Give up and talk over them.
I have never, ever been so happy to see 3:15pm.
So, to all you full-time intermediate teachers: my hat goes off to you. I know it's probably different on a day-to-day basis and that each one of those kids is probably awesome in their own way, but I couldn't do it.
I commend you. I think you probably deserve a medal or life-time award.
And because you're so awesome you should probably never, ever take any more days off.
(Please?!)