Last night I told you all about our lovely, lovely experience seeing Santa this year. The kids are still talking about it.
I love hearing them talk about what they are hoping to get from Santa in reverent, hushed tones. We already have the Barbie house S has her heart set on tucked away in the basement. She has wanted one for ages and M found one on an amazing deal after Christmas last year. He may or may not be as excited as she is, because it is finally, finally out of the garage.
P is easy as he doesn't really have a "great love" yet. He likes dinosaurs, Toy story, cars, and basically anything H is playing with… which never ever causes any fights. (My nose just grew a foot with that fib.)
H's great love is Batman. He will sometimes dabble in other interests–he likes Star Wars, he likes Cars, he likes Thomas… but he is Batman.
Or sometimes Bruce Wayne. He will absolutely correct you if you call him the wrong name.
M has done pretty much all the shopping for the kids for us (have I mentioned that he is wonderful??) and we have an assortment of Batman toys to give to H from Santa and us. M is really good about listening for clues from the kids and picking things up as he sees them on sale.
…and then H told Santa that he and P wanted a blue Batcave for Christmas. A BLUE Batcave. If you are unfamiliar with Batman's recent colour scheme, I'll help you out. It's black. Sometimes there's a bit of grey or yellow thrown in for a pop of colour, but it's black. We already have a Fisher Price Batcave, and surprise! It's black and grey. But H was adamant that he needed a blue one.
So, I tossed that into the pile in my head labeled "things to think about later" and carried on my merry way through the mall. I mentioned it to M later that night, and it was the first time he had heard that wish too.
I ended up being off the next day too, which was sort of a blessing in disguise. I had a million things I needed to get done, and I had absolutely no idea how I'd manage them if I had had to work that day. As soon as I dropped the big kids off at school, P and I headed out on our series of errands. Our first stop was to return the too-big jacket I bought for S last week, then I wanted to pop into Value Village to see if I could find a winter coat for H.
I know how some people feel about thrift shopping or second hand clothes… but honestly, I love it. I love the idea of re-purposing things and giving them a new home. I love that I'm keeping clothes from the landfill. I love how much money I can save! Sure, there are some trashy, gross items… but a lot of what I buy is almost new, if it doesn't still have the tags on them. As P and I were browsing, I found a great winter coat for H for only $6, and a new pair of black dress pants for $5. I decided to take a quick peek at the toys, just to see if there was anything interesting. I found some new wooden blocks, a bag of Duplo blocks for $3 (which was a huge win), and then I looked up. There, sitting on the top shelf, was a big Batcave.
And it was black… and blue.
I actually gasped out loud and began texting M like crazy. It was basically in perfect condition, it just looked like it had been sitting in storage for a while. Everything worked, it wasn't missing any pieces, and it wasn't marked up or grungy.
Best of all, it was seven dollars.
Look at this beauty: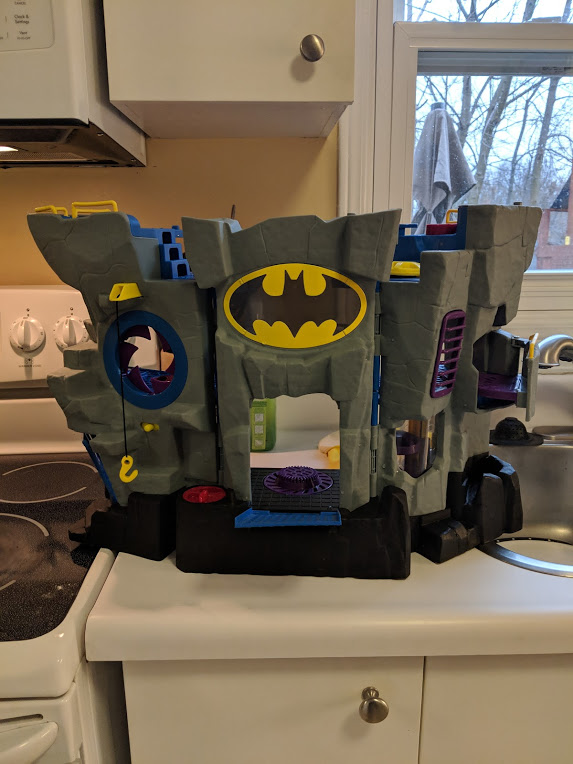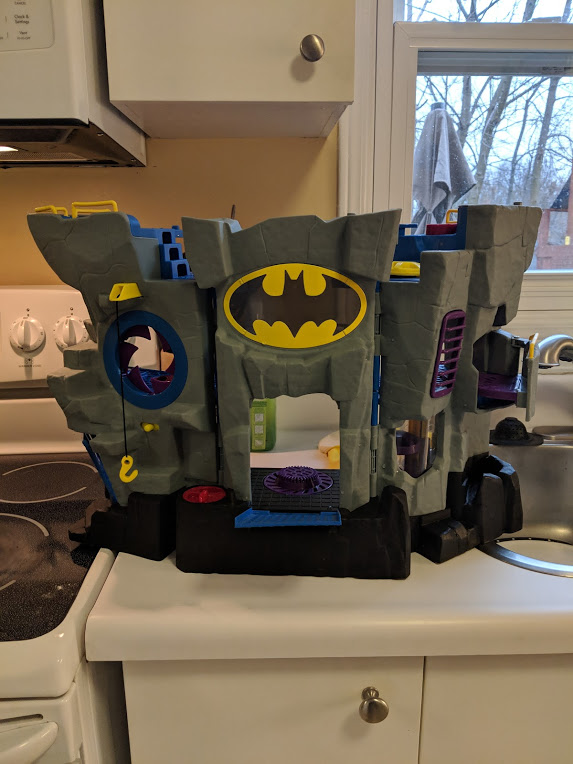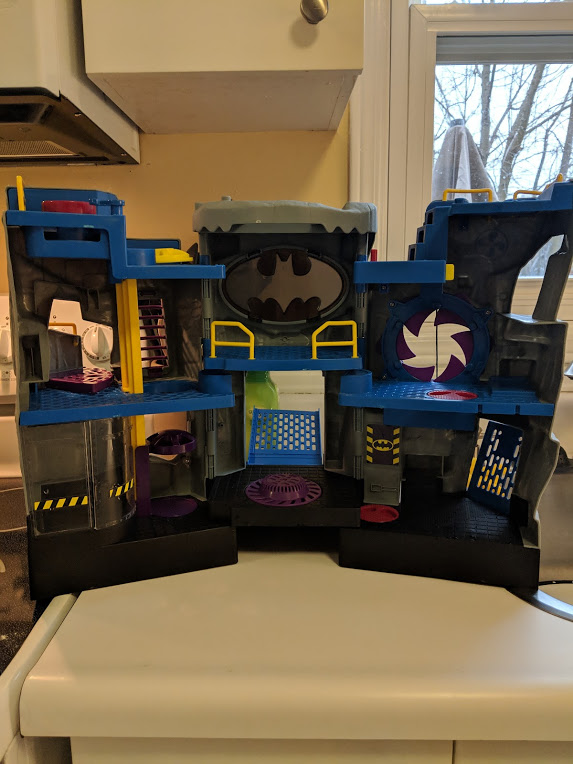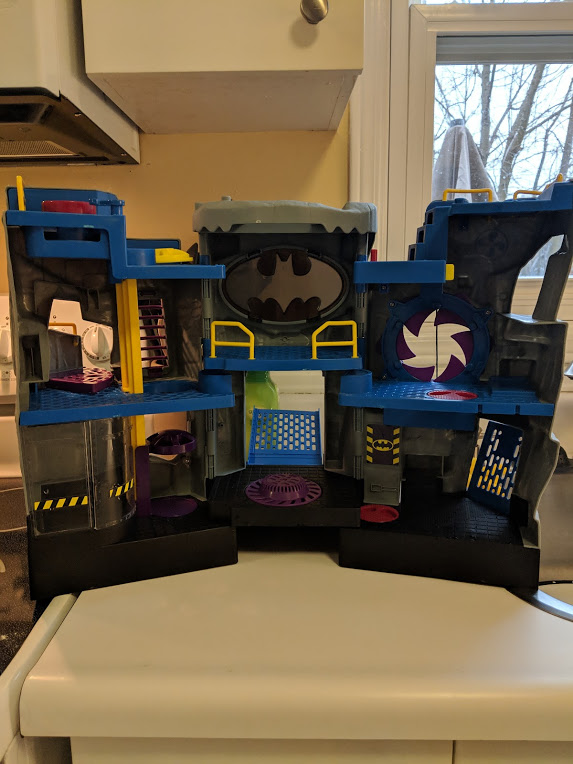 I still can't believe it. I have always believed in Christmas miracles, but to find exactly what H had asked for the day after seeing Santa? I'm impressed. We are going to have one very excited little boy on Christmas morning.
I brought it home, gave it a thorough cleaning and tucked it away in the basement.
I know that what he wants might change, but I love that we'll be able to give him the thing he actually asked Santa for when he saw him. I hope it helps keep the Christmas magic alive just a little bit longer. <3