She's a Jack o' Lantern!!
Well folks, today was picture day for H and Miss S.
She has done SO well not wiggling her turn tooth, even though I know she's wanted to so badly. Yesterday was a PA Day for the kids, and M surprised us all by taking the day off so we could have a family day. S held up her end of the turn tooth bargain, so yesterday we packed all the kids in the vanimal and went on a little family adventure.
With three small kids, I don't spend a lot of time in malls. We go there once a year to get photos with Santa, but other than the occasional lunch in the food court, we don't go often. So, S & H had never been in a Disney store before. M thought it would be fun to let her choose her new doll from there, and she was beyond excited. Both of their mouths gaped open when we walked in and their eyes were as big as saucers.
P was just yelly in the stroller, but that's par for the course.
After running around the store and looking at every. single. doll there, she finally settled on Princess Elena of Avalor, who she is also being for Hallowe'en this year. We let her open her up a day early as she's done so well keeping her tooth in, and we figured it wasn't going anywhere overnight.
Both she and H looked so cute heading off for their pictures, and they were so excited to tell me all about their photos in the "big gym" when I picked them up after school. She proceeded to tell me that her turn tooth was really wiggly, so I'm sure she spent the entire afternoon wiggling it once her picture was done.
When M comes home from work, he comes to see each one of us individually for hugs and hellos. I'm usually last as the kids mob him the second he walks in. S was upstairs playing Barbies when he got home today, so after saying hello to the boys and I he sauntered upstairs to give S a hug. The next thing I knew, they were yelling and laughing and screaming upstairs, and S came running halfway down to shout, "DAD'S GOING TO PULL MY TOOTH OUT!"
She was positively beaming, and while I tried to gently suggest that it might be better to wait until after dinner to try and wiggle the tooth out, I made my way upstairs to see my not-so-little girl with her first missing tooth already held proudly in her hand.
We made it to picture day… but only by a few hours!!
Naturally I demanded a photo shoot with my new Jack o' Lantern daughter: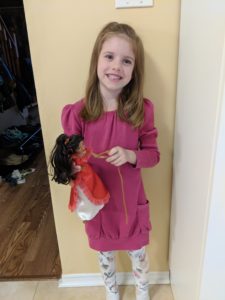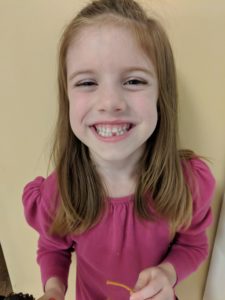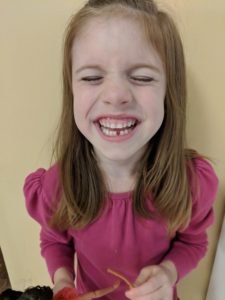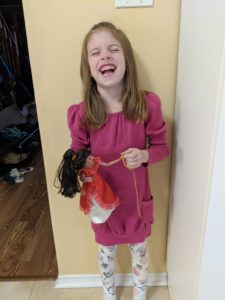 She's pretty flipping cute. I can't believe I have a kid old enough to be losing teeth.
Time to put my wings on… it's tooth fairy time!!