I need some help.
We are still plucking away at our bedroom reno. It's been a slow process because we're doing it ourselves, we have children, M wasn't feeling well all weekend, we have children and.. we have children.
You know.
We can only work in bits and spurts when they are happily entertained or sleeping. We're almost through the "repair" part of the process, and of course when I say "we" I of course mean M. He has been repairing the drywall, patching holes, sanding uneven spots, edging our ceiling, etc, etc. Next up is painting the ceiling, then we get to the fun part: painting the walls and decorating!
This is where you come in.
My first task is to figure out our closet. Until now, it's just been a giant sagging bar and single shelf across the top. I would like to add in some kind of closet organizer, and if you can help me pick one, I'll love you until I die.
Our closet is one giant space. And I want to maximize our storage and also make it look appealing. We have the doors off at present, and I'm debating just leaving them off if we find something that looks nice that we can keep clean. Here's what I'm working with: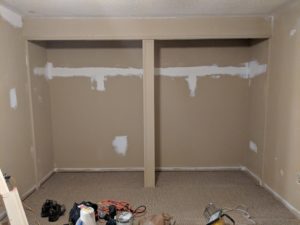 (Looking straight on)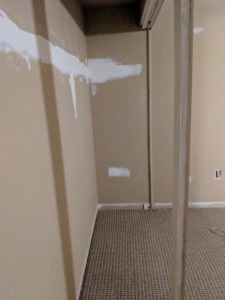 (Inside of closet)
So it's just a big empty space right now. It's a good size: 10ft & 4in across, 26in deep and 7.5ft tall. The divider in the middle is 6in, and there's basically 5ft on either side.
I've been looking around at options online, and I think this is essentially the concept that I want.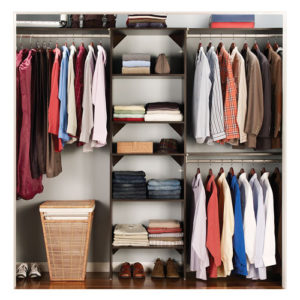 I like the idea of having separate sides to hang our things, but a shared shelving unit in the middle. Of course this particular organizer went on clearance at RONA and I can't find it anywhere. So I'm improvising.
I've looked around online at a few places, but IKEA always calls to me. I've been on their website and there are two systems that I think I like.
I think this one is my favourite: ALGOT (Wall upright / shelves / rod, white)
I think I could possibly do one on either side of our closet, and then just put a set of shelves in the middle. Maybe. If it would look good.
I've also been looking at this one: ALGOT (Wall upright / shelves / box, white)
This second one looks wider, so I don't think I could do the shelves in the middle, but possibly to one side. I don't know. HELP ME. I get so stressed choosing this kind of thing because decorating is just not my forte. It's not. And I'm okay with that.
However, I still want my bedroom to look lovely and organized, and I've realized that for me to do that, I need to ask for help. So here I am, asking.
Help me find a closet organizer? Please?