Shop Girl Shares Cake Wrecks & Emails from Crazy People*
Well lovelies, I have some big news…
This is my 500th post!!
It took me 2.5 years, but I finally made it! (It was actually supposed to happen a while back, but I deleted some drafts I never published and it brought my number down… who knew?) I can hardly believe that I've come so far from where I started when the Hubs was my only faithful reader, to now having nearly 32 000 visits to my little site. It's truly amazing, and words can't express how grateful I am that you keep reading. Thank you. xo
Anyhoo, enough with my sap! Let's get to the real reason you're here–it's Monday… which means I get to showcase two new sites for you! I couldn't believe the overwhelming response I got when I posted Matt's blog last week, and I'm SO glad you all loved it like I do. However, I thought I'd bring you something a little less sad this week, so, without any further ado…

#1 – Cake Wrecks
(image found at: http://cakewrecks.blogspot.com/2009/07/reality-bites.html)
I'll have a slice of the bum, please.
Oh, Cake Wrecks, how I heart you! My cousin told me about this site a while back, but I only diligently began following it recently (perhaps because I'm considering eating chocolate again at the end of this month!!!!! AH). The site boasts the tag line: "When professional cakes go horribly, hilariously wrong" and is a collection of photographs and captions illustrating some disasters in the kitchen. I'm really not sure how some of these cake makers can consider themselves professionals… but I appreciate their efforts as they give me reason to laugh! haha! There are also some PHENOMENAL cake designs on there as well (like, for reals) like the Optimus Prime Cake, or the castle cakes you'll see on the main page (just scroll down a bit). If any of you feel like making the Hubs and I one of those, we won't turn you away.
Just sayin'.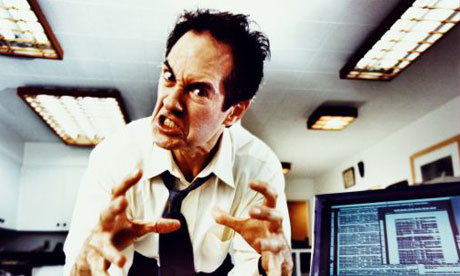 (image found at: www.guardian.co.uk/…/nov/05/work-and-careers)
What fun would the world be if there were no crazy people in it? If you've been reading for some time you'll know that I am a HUGE fan of Andy Rooney's article "Stupid People" which I was reminded of again this morning. (Need a sign? READ IT) Well, Emails From Crazy People is a collection of emails and correspondence between frustrated, angry and, well, CRAZY people. Trying to buy dirty socks on Ebay to satiate your fetish? Wanna tell your neighbour what you're really thinking? EMAIL. Then hope it doesn't end up here. haha!
Well dearies, that's it for me… thanks again for stickin' around for 500 posts! I heart you all!