Hiya, folks.
Well, after two new lovely people decided to follow me in recent days whilst my blogging track record has been pitiful, I thought I should probably update you with what's been going on over here in Senior's City.
So. Almost 4 weeks ago I said a sad farewell to the Hubs and left to go live in The City for 3 weeks to finish my final teacher's college placement. I was placed in an Autistic Spectrum Disorder (forever hereafter known as ASD) classroom. I was terrified. Before going into this class I had no experience with Special Education classrooms or students–I had had students with IEP's (Individualized Education Plans…there are SO many acronyms in this profession… *sigh*) before, but this was a whooooole new ball game. And to top it all off I was placed in an elementary school. Small children. Scary.
I went into the placement thinking it would just be a great filler for my resume, nothing more. I left hoping that someday I'll have my own ASD class. It was that great. I almost feel bad saying that as so many of my friends had such awful last placements and mine was AMAZING.
**Note: At the Hippie U teacher's college, the last 3 week placement is known as an "Alternative Placement". It's the only one we have some choice over, and you can do it absolutely anywhere so long as it relates to education / teaching in some way. It's really more for the experience.
Anyway. I worked with a fabulous teacher and two wonderful EA's (Educational Assistants) whom I already miss terribly. On my first day I learned that there was 6 students in the class–correction, six boys in the class. Six autistic boys.
Did I mention that I was terrified?
I knew almost nothing about autism going into the placement. I had read a bit on the internet, and we had learned a little in one of my classes, but it's not the same as knowing someone with autism. When they all arrived on that first day it took me about 5 minutes to absolutely fall in love with them in an absolutely-platonic-not-at-all-creepy-"don't-touch-the-children"-teacher-student kind of way.
It was absolutely nothing like what I expected. I went in thinking I'd be biding my time for 3 weeks, counting down the days to the finish line. I had no idea that I would enjoy it as much as I did. I learned so much. We went for walks. We learned how to make pizza together. We went to the playground. We sang songs. We made cupcakes and learned how to decorate with sprinkles and icing. We laughed–oh sweet mother, did we laugh. I wish I had a picture of Tony*… I often worked one-on-one with him as he was not very verbal, but this kid has SO much personality. He often imitated things he had seen on TV that would have us all laughing until our sides hurt.
Example: we think he must have been watching Saved by the Bell one morning because he came in one morning, dropped his bag down and ran for the mirror. We watched in amusement as he adjusted his clothes to the look he needed–his sweatshirt was tucked inside his jogging pants which were hiked up to his chest (thus exposing his socks) and his hat was turned sideways like Screech has here: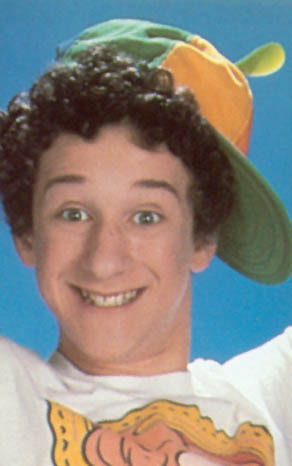 He then strutted right over and sat down and started to work.
Or there was the time he found a little girl's jacket in the playground, somehow squeezed himself into it, zipped it right up and walked around the playground like the snowsuit kid from A Christmas Story (that link'll take you to the original trailer for the film. AMAZING).

In short, it ended up being one of, if not my favourite placement. Seriously. I now know without a shadow of a doubt that I could teach this type of class and love it. It was hard being away from the Hubs during the week, but we saw each other every weekend and I got to hang out with my cousin and her family during the week. I didn't know her very well before I stayed there, and I am so glad I got to know her better… she is fabulous, her Hubs is hilarious, and her bebe is ADORABLE. It was so great.
The weeks flew by, which probably contributed in part to my feeling like there was NO time for blogging.
(At least that is what I am making myself believe. Don't judge me.)
In the midst of all this the Hubs and I were apartment shopping in the city where he'll be starting his new job shortly. We found a great apartment, but everything moved reeeeeeeally quickly. There were other people interested in the same one, so we couldn't wait and grabbed it immediately and realized that we'd be moving in less than 3 weeks. I was still in The City at the time, so the Hubs (being the wonderful Hubster that he is) got down to business and arranged everything and packed half the apartment before I even moved back home. The second I dropped my bags on the floor I jumped in and now our apartment looks like this:

I think we're about 85 – 90% packed. It's all the little finicky stuff left… and I'm wiped. I am very excited about our new place and the Hubster's new job, but I'm ready to get the actually moving part underway and stop the packing. haha! We move out Friday morning… as soon as I get our new place looking pretty I'll post some pictures.
And then today I decided to chop off all my hair. I think I took off at least 4 inches–there was quite a mountain of hair on the floor, and my bottom layers just reach my shoulders. I love it. I was so ready for something different. Again, when I am not sporting the I'm-covered-in-dirt-from-packing look I'll take some pictures and require your honest opinion. :)
Well, I think that's me in a nutshell… I am sorry I have been absolutely terrible at commenting on your blogs–I do heart you with great hearting, life has just been a little busy. I promise to leave you all lovely comments very soon.
Shop Girl*
xo
P.s. Did I mention that I AM A TEACHER?!? Like, officially 100% a teacher?? Like, I could teach your children. For real. A gets-presents-at-Christmas-time kind of teacher. HOO HAH!!!!!