This is a little different from what I normally post, but it's my FAVOURITE soup and I get asked for it all the time, so… here I am. I hate recipes that basically have the poster's life story before the actual cooking instructions, so I'll keep it quick. In short, M went to a cottage with an old friend, and while he was there his friend's mom made a soup that was to die for. There was no real recipe, it was just one of those "kitchen sink" recipes that had been made over and over and was never really written down.
(Aren't those always the best kind?!)
When he got home, we went to the grocery story and walked around as he tried to grab all the things he remembered from the soup. After a little experimenting, this is it. It's our favourite soup, and I am asked for this recipe every. single. time I take it anywhere. So, without any futher ado, here you go!
Spicy Sausage Soup

* (Serves 6ish)
Prep Time – 20 Minutes
Cooking Time – 40 minutes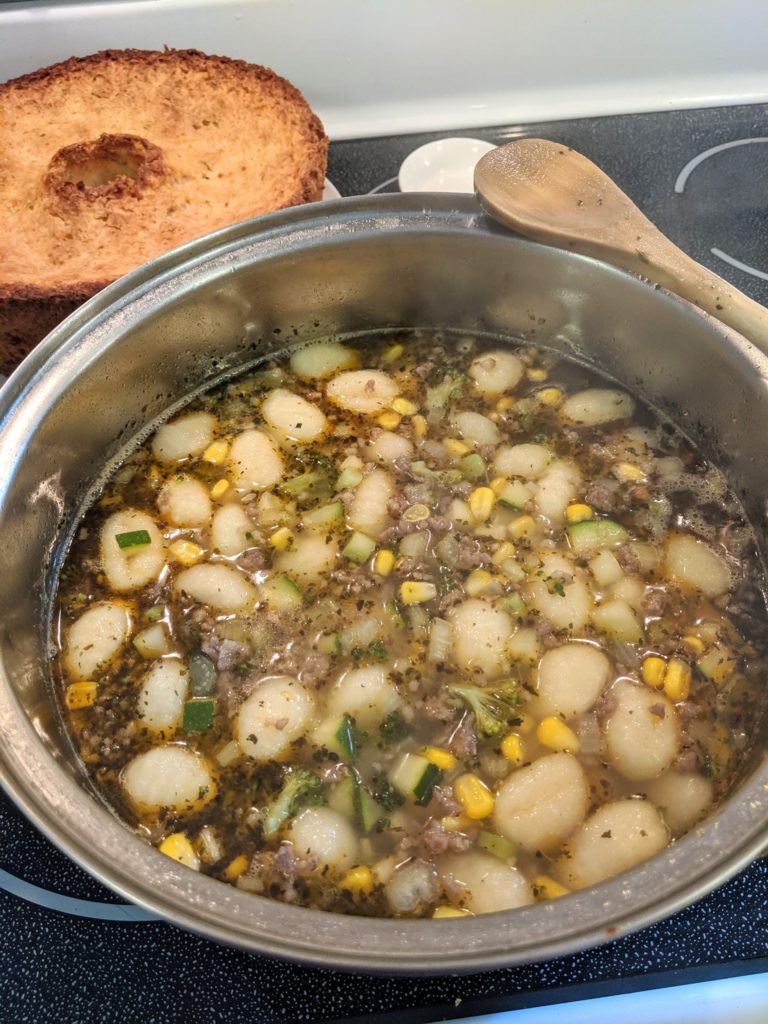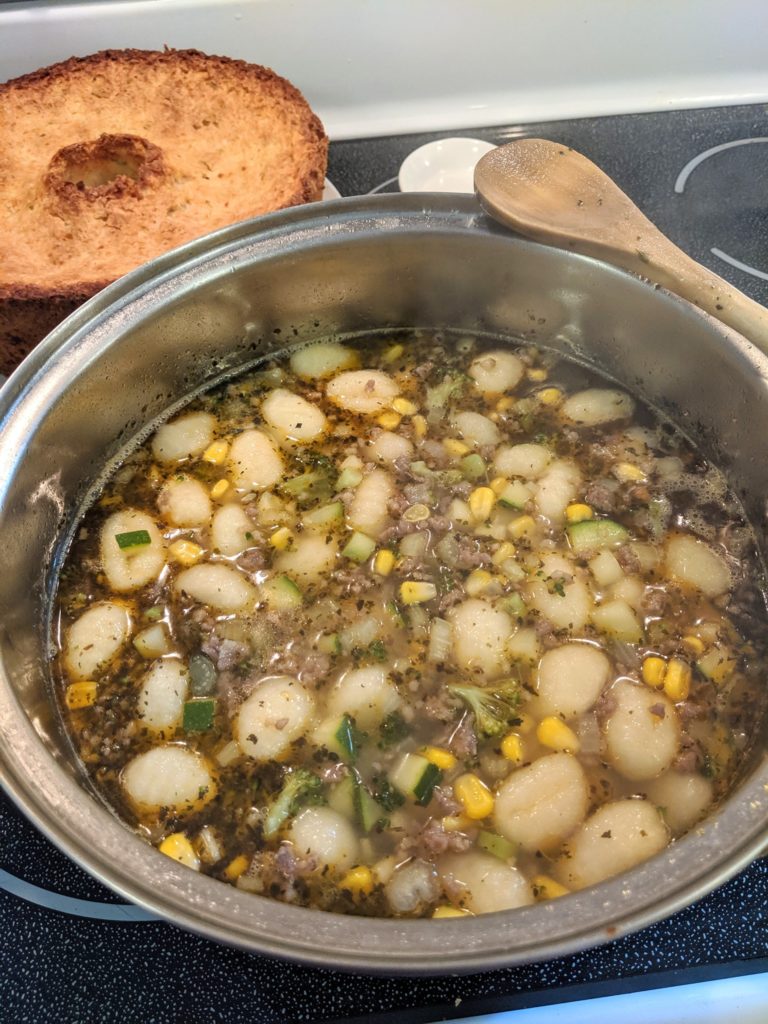 Ingredients
* 1 tsp Oil (Olive, Canola or Avocado work well)
*3-5 Hot Italian Sausages (This will determine how spicy your soup is.)
*7-8 Cups Chicken broth
*3 Stalks of Celery
*1 Head of Broccoli
*1 Zucchini
*1/2 Onion (White or Spanish)
*1/2 Cup corn (frozen or fresh)
*1 Package Potato Gnocchi
*3/4 tsp Dried Basil (You can add more to taste)
*Salt & Pepper
Cooking Instructions
1. On your stovetop, heat oil in a large pot. Remove casings from three (or more) sausages and brown the meat. (If you want a bigger batch of soup, you can cook all five!) While the meat is cooking, I like to break it apart into small chunks with a wooden spoon.
2. When your meat is mostly cooked, add in the chicken broth. Do not drain the meat–that's what brings the magical flavor to your soup! Bring to a low simmer.
3. Add in your basil, salt and pepper. Let your soup simmer for a few minutes then give it a taste–feel free to add more of each if you like!
4. While your soup simmers, chop the veggies. Dice your onion, celery, broccoli and zucchini into bite size pieces. Set aside.
5. After your soup has simmered for 15 minutes or so, add in the veggies. Toss the onion, celery, zucchini and corn into the pot.
6. Start cooking your gnocchi according to the package directions (in a separate pot). As they boil and rise to the surface, transfer into your soup pot with a slotted spoon.
7. Stir everything together and let simmer for 5-10 minutes. If your soup looks too thick, just add in more chicken broth (or water) to get your desired consistency.
8. Serve & enjoy!!