Diamonds are a Girl's Best Friend*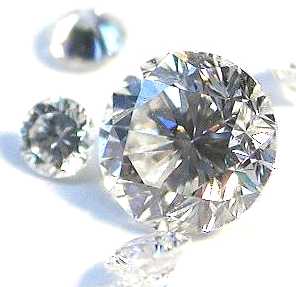 As our wedding anniversary is quickly approaching, I like to dream about things the Hubster might buy me… and this year I can't stop thinking about diamonds. After all, they say diamonds are a girl's best friend, right?
Four and half years ago the Hubster got down on one knee and asked me to marry him. I saw he had an engagement ring in his hands, but I was too busy saying yes to his beautiful proposal ten times to really get a good look at it. It was much later, after he'd left for the evening, that I really got a chance to meet my first diamond…
…and I love it.
He picked out the ring by himself and gave me a princess cut, white gold, solitaire diamond ring (which is exactly what I would have picked out for myself!!). So really, when he possesses such fabulous diamond picking skills, am I not doing him a disservice by not allowing him to practice—to expand upon this talent?
I thought so too.
I've already told the Hubster that for our 10-year wedding anniversary he's allowed to add a diamond on either side of my current engagement ring… you know, one for each 5 years we've been together. I also wouldn't say no to a second wedding band that sparkles. I thought it was a very thoughtful gesture on my part; I just eliminated any stress of trying to pick out an anniversary gift on that day. Aren't I a good wifester?? :)
But these days I can't stop thinking about earrings. I own all these cheap ones (you know, the ones that tarnish after several wears) but I'd really, really love to get a beautiful pair of diamond earrings that I could wear every day. They don't have to be crazy expensive or fancy, just something simple and elegant. Like me. (hahahahaha)
So ladies, what about you? If you could have your dream jewelery, what would it be?