"C" is not Just for Cookie*
A couple of weeks ago I found a new blog that I am absolutely in love with: Clever Girl Goes Blog. It's funny and witty and just an all-around great read. This week, Tia (the author) was tagged in an ABC game, which she proceeded to pass on to other people.
I was assigned the letter "C", and I'm supposed to make a list of 10 things I love that start with that letter. SO. Here we go!
My absolute first instinct was to write 'chocolate' (obviously... I am a woman after all…), but as I haven't touched the stuff in six months, I'm going to pass. Instead, my 10th favourite "C" item is…
10. Cars* Having been a patron of public transit for the past few years, I have reeeeeally come to appreciate vehicles. It made financial sense not to own one while we were in school, but some aspects of it have been difficult–like getting groceries or going to church. We are just beginning to shop for one now, which I am so so so excited about!! I also looove road trips. To anywhere. Let's go.

9. Cheesecake* This is my ultimate guilty pleasure. Now, let's be clear here–I'm not talking any ol' cheesecake that you buy in a box… I'm talking about the decadent New York cheesecake, drizzled in some kind of fruit topping (as chocolate is now off-limits… but oh, chocolate cheesecake is a whooooooole other story… *swoon*). I want some. Right now.

8. Candles* I looove candles… I have them everywhere in our apartment! I especially love smelly candles, but only the ones that have "food" smells. I currently have pecan pie and vanilla candles, but my all time favourite is a scent called "Grandma's Kitchen". It is amaaaazing.

7. CBC* I always made fun of Doodle and his love for CBC, but I have to admit that I have since become an avid cbc.ca reader. I look forward to reading it each morning, and am even connected to it through Twitter so I get the headlines as soon as the stories are posted. Hey–it's important to know what's going on around you! haha
6. Canada* I am Canadian, and even though I complain about the cold weather, I love it here and am very proud to be a Canadian.
(
This is the house I grew up in. We lived in a warmer area, so the trees actually grew there.
)
5. Clothes* I love to shop. I lonnnnng for the day when the Hubster and I are both securely in good jobs with no more school debt and I can buy nice things without feeling bad about it. haha! I still do quite well–I've learned to shop the sales and have really completely redone my wardrobe since getting married. But shoes…. I miss buying lots of fun shoes just because they are pretty and fun. I now buy teacher shoes (with the occasional fun pair thrown in) because they are practical. Someday though… Shop Girl will shop once more! haha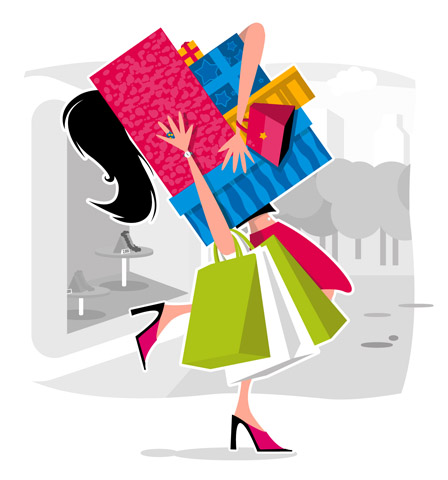 4. Cities* Having grown up in a tiny town up north named after a rodent, I have always had a fascination with big cities. I love them. I lived in The City for 8 months when I met the Hubster, and it was phenomenal… there was always something to do, always people around, a million cool places to eat, tons of things to see, and things stayed open later than 8pm! Imagine! Don't get me wrong, I loved living in my little town, and I love all the people there… but I have always been drawn to the city. I hope to live near it again soon!

3. Camp* Not just any camp, my camp. (well, not just mine, but you know) For 6 years as a child I spent 1 – 2 weeks of every summer at one of my favourite places on earth: Camp Bickell. I loved it so much that I also spent 4 summers working there, and there would have been more had my family not moved south during my senior year of high school. I love being outdoors, playing sports, and my all-time favourite: campfires. Campfire songs are so my thing… I have a million memorized, and I loved leading the singing. I also really really like marshmallows. (I'm the one with the flower sandals–being in the bush doesn't mean you can't have cute shoes! haha)

2. Courting* I am such a sucker for romance–the Hubster believes that the cheesier it is, the better I like it. haha! I especially love old-fashioned books and films where couples "court" one another, such as Elizabeth and Mr. Darcy (♥), or my all-time favourite, Anne (with an "e") and Gilbert. (<--Click that. You really really want to.)
Seriously… how can you not love that?!
1. Christmas* Christmas is by far my most favourite "C" word, as well as being my most favourite time of year! My entire family gets together, and we eat way too much, laugh way too hard, sing carols, play games, go shopping, eat some more then listen to Big Dad read the Christmas story. I look forward to each year… Christmas + ma famille = fabulous!

There we have it!! If you'd like a letter so you can play the game, let me know in the comments (right below this post) and I'll assign you one! If you aren't a blogger, it can just as easily be filled out on Facebook as a note! It was actually really fun to do… so come and get'er.
Shop Girl*
P.s. I didn't actually grow up in an igloo… just in case you were wondering. haha